Popcorn Words:
said, made
Writers Workshop:
We continued on with our "How-To" writing this week!  On Monday, we wrote a "How-To" about making cookies! This was done whole group.  The kinders had a blast cutting out their pictures, putting them in order and coming up with a sentence to write for each step.  On Tuesday, we discussed different topic ideas for our own "How-To" and the kinders watched Mrs. Tindall start her own "How-To".  After the mini lesson, they were released to try it on their own!  They did fantastic!  I am super proud of how hard the kinders are working on this type of writing.  They continued to write their "How-To" piece on Wednesday and Thursday.  
On Friday, we read the mentor text "How-To Make a Liquid Rainbow".  While reading the book, we went step by step and followed all of the instructions and created our own liquid rainbow!  The students were super EXCITED while we were making it! This activity was such a fun way for us to incorporate science into our writing.  It also got us very excited about learning:)
Readers Workshop:
On Monday, we learned that careful readers check that their reading makes sense and sounds like a book.  They stop and ask, "Did that make sense? Did that sound right? If not, they don't just keep going! Readers try to fix it!"  We discussed and used the chart below to help us make sense of this.
On Tuesday, we learned that pattern power doesn't only help us read the words in our books, but it can also help us  think about the whole book.  We learned that when you get to the last page of a book, you can think about how the ending goes with the pattern. Then ask, 'What is this whole book really saying?"
On Wednesday and Thursday, we focused on sounds in the letters.  The students were encouraged to think, talk, play and sing the alphabet.  They were able to get to know all of the fun ways that letters and sounds go.  They also were encouraged to try a word they may not know by looking closely at the beginning sounds in it.  Then think, 'What word could this be?"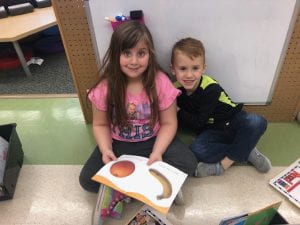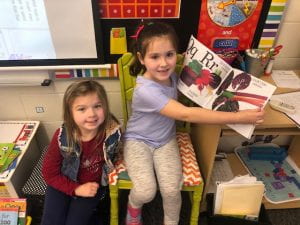 Math:
This week in math we showed a teen number as a group of ten ones and further ones and we matched partners and totals for teen numbers.  We also focused on adding and subtracting numbers from 0-5, writing numbers 0-30, and showing partners for numbers 2 through 7.  We are nearing the end of this unit and hope to take the Unit 3 test next week!
Star Student: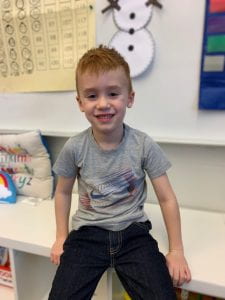 Meet Harrison!
Harrison was our star student this week!  We learned so many fun new things about Harrison.  We learned that he lives at home with his mom, dad, brother (Will), and sister (Emelia).  His favorite color is blue and his favorite animal is a cheetah.  He enjoys eating pizza and his favorite book is "The Old Lady That Swallowed Some Leaves".  His favorite thing to do at school is to play with his friends and his favorite thing to do at home is to play in the basement with his brother and sister.  Three super cool facts about Harrison are 1. He is a golfer, 2. He was born 3 weeks early due to a heart condition that improved right after he was born and 3. His family has a cabin in the woods that he enjoys going to!  Thanks for being an AMAZING star student this week Harrison!  We had fun learning about you.
Mystery Readers: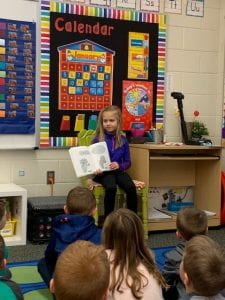 On Wednesday the kinders were super excited to see Ellary walk through our door!  Ellary is Mrs. Tindall's daughter and she is in 2nd grade at Georgetown.  She will often stop by at the very end of the day so all of the kinders were EXCITED to see her!  She read us a Mo Williams book, "Should I Share My Ice Cream?".  Piggie and Elephant books are super popular in our room so the kinders had a blast listening to her read!  Thanks for swinging by, Ellary!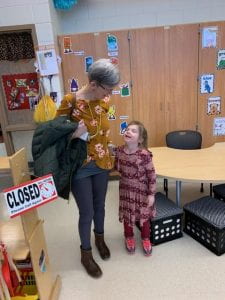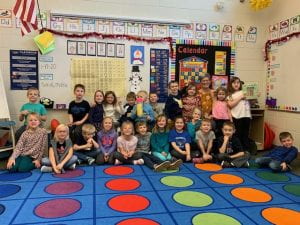 On Friday, Kennedy was thrilled to see her grandma walk through our door as a mystery reader!  Kennedy's grandma read us the book, "The Deer with the Purple Nose" by Wayne L. Brillbart.  This book was so neat because it was full of real-life pictures of animals in nature!  Thanks for stopping by Kennedy's grandma!  We had so much fun listening to you read!
Important Information
It sounds like snow should be arriving this weekend, so please insure your kinder has snow pants, boots, a warm coat, hat and gloves to play outside in every day!  Thank you! 
Please remember to send 2 healthy snacks with your kinder each day.
Upcoming Dates
Monday, Jan, 20…Art-Take Home Books Due

Tuesday, Jan 21…STEAM

Wednesday, Jan 22…Music-Take Home Books Due

Thursday, Jan 23…Gym

Friday, Jan 24…Art–Take Home Books Due

Friday, Jan 31…Early Release @ 12:15pm

Winter Break: February 1-4

Valentines Party- Friday, February 14th 2-3pm